Update - 30/03/2021
As of Monday 29th March -
• Aberdeen Store will offer a Call and Collect service (0844 391 6777)
We are strictly following COVID Safety rules to keep you and our staff as safe as possible. We respectfully ask that you adhere to these rules whilst visiting us.
Thank you for your continuous support and helping us all keep safe and well!
Update - 1/02/2021
As per government guidelines, our stores continue to be closed and will be until further notice.
Orders can continue to be placed online only, as we have skeleton staff working within the Perth Warehouse to allow these to be processed and shipped.
For the time being, the option to collect from store has been removed from our website.
As always, please contact us via email or Facebook if you have any queries and we will get back to you as soon as possible.
Thank you for your understanding - Stay safe!
Update - 24/12/2020
The Synergy Team would like to wish all our Customers & Suppliers a Very Merry Christmas & a Happy New Year.
In line with the Tier 4 Restrictions in Scotland, our Branches are now closed until 18th January.
There will be no Customer Service staff available to answer phones at this time, so if you need to place an order please do so online at www.synergysalonsupplies.com
If you need to speak to someone please send an e-mail to orders@synergysalonsupplies.com or send a private message on Synergy Facebook and we will get back to you as soon as possible.
We will have skeleton cover in our Perth Warehouse so we can continue to process & ship PPE & on-line orders, we can also offer a collection service with pre-arranged times.
The Warehouse cover will be in place on the following dates:
Open:
29th December
30th December
31st December
Closed:
1st – 4th January
Open:
5th January – 18th January
We hope you all keep safe and well over the Christmas break, and we look forward to resuming 'Normal Service' as soon as possible in January 2021.
Update - 29/06/2020
Good news! We are happy to announce the re-opening of our stores from Monday June 29th! There will be some changes to the store and how we do things though;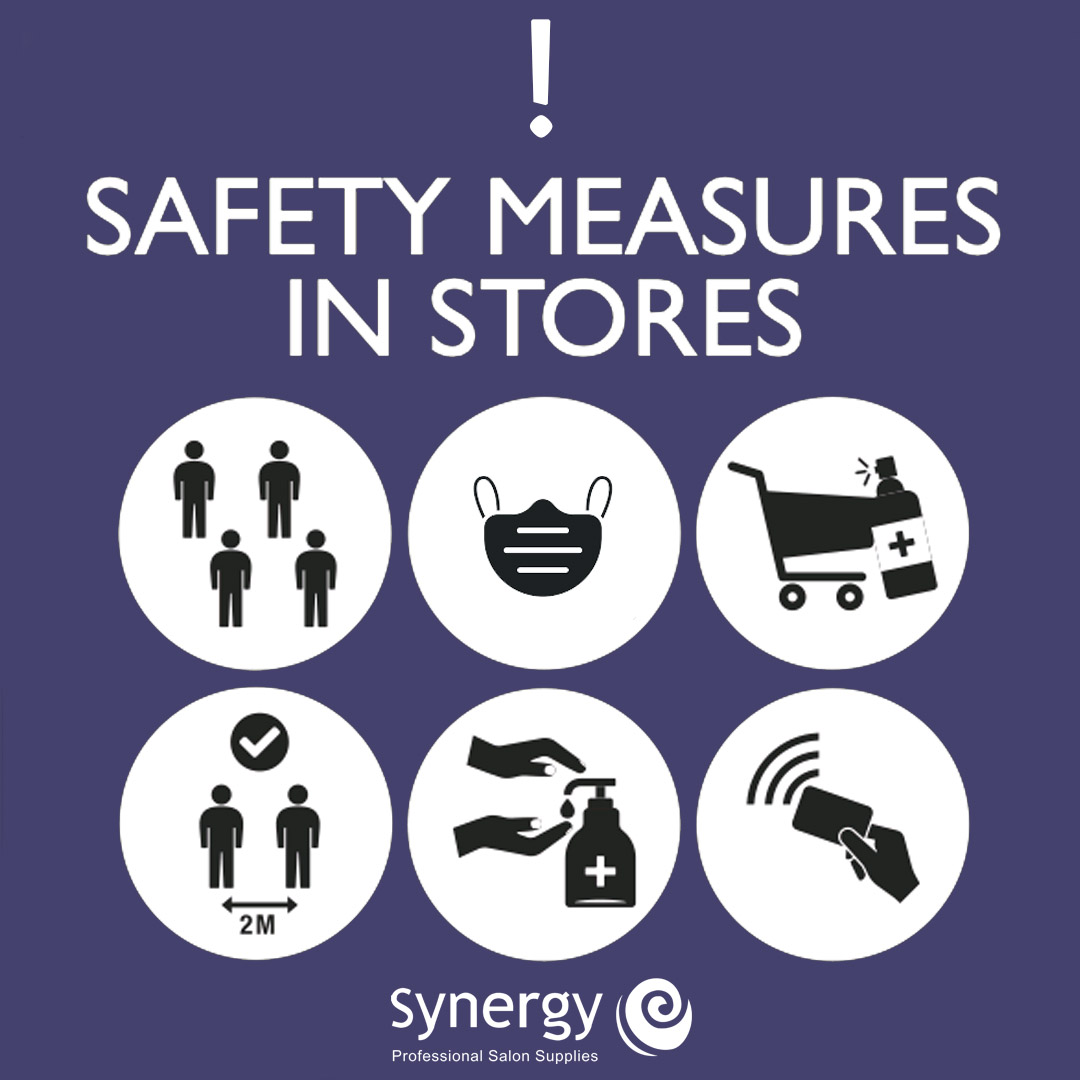 In order to keep you and our staff as safe as possible we respectfully ask that you adhere to the following rules whilst shopping in our stores:
We can only allow 2 customers in our store at any time - Please Queue outside until you are called forward.
Please wear a face covering while in our store.
Please follow our one way system as shown by our floor signs.
Please only pick up products you intend to buy.
We are only accepting card payments at the till points.
Thank you for helping us all keep safe and well.
Remember you are still able to order online and have it delivered to your home address to prevent any social contact!
Update - 19/05/2020
We have now added a NEW delivery option - Click and Collect
This service is free of charge and available from Perth only. If you would like to use this service, just simply pick the Collection option at checkout and you will be contacted when your order will be ready for pick-up!
If you are in need of some financial/business support - please use the links that are found in our Support Links page. We hope these can give you all the answers you need.
https://www.synergysalonsupplies.com/covid-19-support-links-W21page-25
We have also added the Re-Opening Hair Salons, Barbershops and Beauty Salons Guide to our website that the NHBF have published.
Here is the direct link to view it - https://www.synergysalonsupplies.com/img/shp/SY-D-NHBF-OPENGUIDE_S.pdf
We hope you are all keeping safe and well and we can;t wait to see you all again!
Stay safe,
The Synergy Team
SYNERGY COVID-19 STATEMENT
Dear Salon Customers,
Owing to the ongoing Coronavirus crisis, our priority is to look after the safety and well-being of our staff and customers during these difficult times. As a result we will be making the following changes from Monday 30th March 2020.
1. The stores will be closed in Perth and Aberdeen.
2. We will be operating from our Perth warehouse with skeleton staff numbers to deal with Online Orders Only from www.synergysalonsupplies.com. All online orders will be Pay as You go and will be delivered as normal within 24-48 hours after dispatch.
3. We will have no staff available to answer phones but you can still order online or email any queries to info@synergysalonsupplies.com
4. If you are closing your salon temporarily or your clients cannot make it into the salon, why not sign up as a salon affiliate @ www.salontrusted.com and recommend to your clients to shop online to get their products delivered straight to their door. Remember you will receive commission on all your clients orders when they use your salon code.
The changes will be in place until further notice.
In the meantime please keep safe and follow the government guidelines on Social Distancing
Stay Healthy
The Synergy team